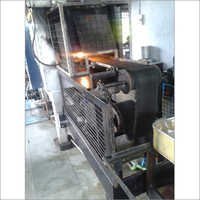 Mesh Belt Furnace
Product Description
By keeping track of the latest market developments, we are involved in manufacturing and supplying Mesh Belt Furnace. Offered furnace is well manufactured by making use of premium grade materials and advanced technology. With excellent heating efficiency, offered furnace is used for annealing, tempering, hardening and aging of metals such as steel, aluminum, etc. Moreover, our valuable clients can avail this precisely tested Mesh Belt Furnace in different technical options at market-leading prices.
Unique design makes it ideal for various heat-treating processes that may be in the presence of atmosphere or in its absence
Its insulation is of molded ceramic fiber type or brick refractory type. This is lighter and has lower values of thermal conductivity and thermal mass in comparison to conventional brick refractory
100% ignition of combustible gases is ensured with the presence of an electric atmosphere system, which is automatic in nature
Temperature can go up to 1250°C
A range of sizes and belt widths can be provided
Integrated with safety backup system which includes audio & visual alarms, secondary igniter and nitrogen safety purge
Audio & visual alarms are also provided in the excess temperature safety system.
It is provided with an automatic inert gas purge of the muffle at two stages viz end of process cycle and prior to the entry of a combustible atmosphere
Nitrogen purge chamber can be replaced with flame curtains on every muffle door
For heat treatment, continuous lines are provided . These lines are of Cooling Section, Heating Furnace, Loading Table, Pre-Heating Furnace, Quenching Tank and Unloading Section

Features of Mesh Belt Furnace:

Belt drive control is possible with the presence of an A.C. Drive of variable frequency type. A digital speed indicator is also provided.
Made available in complete sections including an insulated pre-cooling section
Microprocessor-based digital controllers
The cooling chambers are made of stainless steel and are wrapped by copper tubing. There is also an option of water jacketed chambers.
The motorized valve is automatic controlled
Welded gas-tight alloy muffle

Benefits of Mesh Belt Furnace:

Process flexibility is increased manifolds and production capacity is increased
Inline Loading as well as heat treatment is possible
Installation is simple and it requires less maintenance
Initial investment cost is less

Options - Mesh Belt Furnace:

Belt cleaner
Belt stop alarm
Combustible atmosphere system
Cooling Sprays
Different ratio of belt speed
Extra water cooling
Load/unload table extension
Multiple atmosphere
Nichrome belt
Oxygen analyzer
PC, PLC & SCADA control system
Stainless Steel muffle
Transformer

Applications:

Annealing
Brazing
Ceramic firing
Hardening
Sintering
Various type of heat treatment application.
Â
Contact Us
Plot No;- 2408/7, 4th Phase, G.I.D.C. Mulchand Road, WAdhwan City, Dist;- Surendranagar, Surendranagar, Gujarat, 381212, India